Create many islands in the shape YOU like!
This is the real freedom a Game Master deserves.
With these 6×6 inch sized tiles, you can shape any tropical islands and their surroundings or inland within minutes; and it will be completely modular with the previous, Desert Canyon map-tiles set!
Why is it better than a map?
It's important for me as a GM that my gamers encounter varied areas and islands when they are sailing across the high seas, searching for treasures or revealing hidden secrets. If you are also among those who like to make these visible on your tabletop, then you know that sometimes its simply hard to find the right map if you need a small island, a coast or a group of islands; and it also isn't worth it (neither in time nor money) to seek out or create a new one every single time your players want a short-time raid. You can sketch them up anytime, but if you are not an artist or you need a more spectacular solution, well, you had to go for a map. Until now.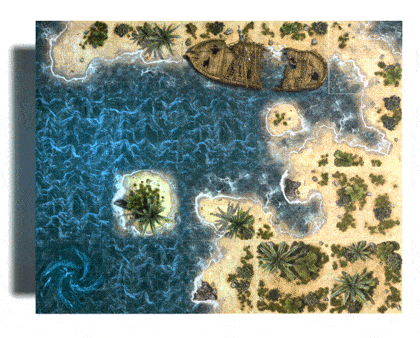 Save your time and money
So I created a set which gives me and other GMs a nice base for these adventures. I've tested and developed shapes for the coasts and islands which will not make them monotonous and flat. You will need only this set, not dozens of maps, to shape diverse areas; you can re-use the tiles any time.
This set provides a basis for your future adventures. It contains no fixed story-specific elements you should fit your story to (like bodies on the map, buildings, other specific objects, etc), but I attached extra elements you can cut-out and place, like an old shipwreck by the coast, a cave entrance (or underground river outflow), boxes, cases (on water and on mainland), a vortex and sharks.
Play a more atmospheric game
You will be able to fill your adventures and your stories with more atmosphere using these tiles for you and your players' pleasure and increase the diversity of the areas using the cut-out elements. Your miniatures and other paper models or terrains will fit perfectly to these 3D-based and highly illustrated tiles. With the realistic graphics and vivid colors, they will almost come to life on your tabletop providing a nice background for them.
Features you will get:

Detailed, lovingly crafted graphics which will make your gaming nights more thrilling.

Variate coasts to help you create diverse beaches, islands and archipelagos quickly and easily.

Cut-out extras that you can place on your map, and bonus tiles.

Re-usable and modular tiles to save you time and money.
If you could not decide which map you should use in your next tropical adventure, then look no further! Buy the digital version of this set now for only $7.95, the physical for $22.99 or both of them for the same price.

About the digital version:
Image format:
– JPG files for virtual tabletop players: 100dpi (1 inch=100px)
– Layered PDF files with the tiles: 300DPI (with day/night versions and grid overlay layers – optional)
– Draft-tiles: PDF, 200DPI
These PDF files are converted with a CMYK profile that is better for most printers and use about 20% less black ink!

About the printed tiles:
You will get 52, double-sided Tropical Island Tiles.
– 2 description tiles (cover, addresses + content, sample map)
– 2 tiles with cut-outs
– 48 Tropical Island tiles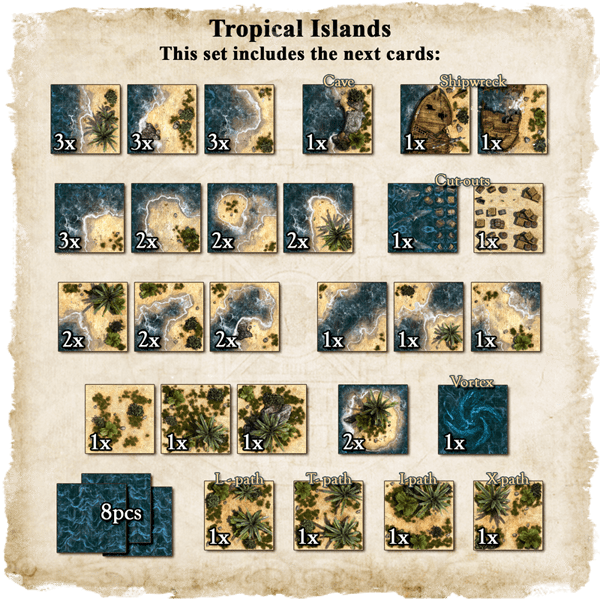 Re-usable and modular.
Buy it once and use them for any adventure! The tiles are available with two sides, you will find the night version printed on the back of card-tiles.

Double-sided UV-coated
You can draw on them with wet-erase felt-tip pens because this surface makes it possible to erase.
Try it out!


Don't take any risk, order your physical copy now and if you don't like it, or you don't hear a single WOW! around the table when you draw your newest charge, just send it back to me (shipping cost will be on me) and I will refund you without any question! (I will pay back the price of the digital version, too.)

This is my WOW! Satisfaction Guarantee I provide for all of my products.
The quality of the artwork and colors blew my players away.

by J.F. Kelly via

The artwork from Black Scrolls Games is some of the best I've seen. If you are into RPG gaming, you owe it to yourself to check out their products.

by K. Williams

Behind the tiles
This product is the result of a two-month development process, but I started outlining it about half a year ago. It includes all of my knowledge and skills that I have as a graphic artist and tabletop gamer from the past 10 years.
I'm sure these tiles will be helpful for you, at least as much as they are for me. I'm really happy for the free time that I have because I don't try to find the right map anymore. There is a set on my shelf that I can use for many of our adventures, saving me money (so I can spend it on other gaming supplies. 🙂 )
3D preview: