here is a small hut near to the border between forest and swamp where trees grow high like giants, holding back the sunlight and covering the forest in pale dim; wherein a half-blood witch, Wayaga, lives. She built this house in the middle of water by the side of a tree, crudely assembled from driftwood and branches. Torches and skulls in front of the entrance let you know: you better stay away from her.
You hear nothing but the little noises of swamp creatures crawling under your feet, some birds who have gotten lost here and now they want to get out of this place, fearing for their life; and noises of ripples in the water caused by something in the deep. Could it be a creature or just the gases of marsh and rotten leaves that are bubbling to the surface? You dont know yet.
It seems like something is sparkling under the water not so far from the hut, but it disappears quickly and now you are wondering if you truly saw something or if wraiths had deceived your sight in this dark place.
What kind of adventures are waiting for you here?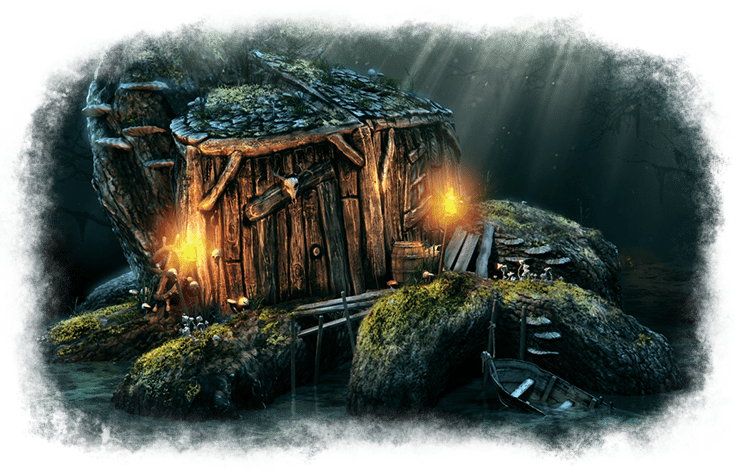 The digital version of the area is including the JPG files for VTT programs and the map broken into pages in a PDF file with the description and background in case you would like to print it out at home. The product contains the night version of the map as well, which you will find printed on the back of card-tiles.
If you follow the instructions on the first page, you will be able to download a free map of mine. You will find that info in the confirmation letter with your purchase. Already more than 400 gamers enjoy my Keeper of Realms map, they can play the adventure and they know what the Black Scrolls name means and what you can use the Master Scroll for. Join them!

Features: 
I constructed this map to make it universal, it will be compatible with the most common rulebooks.

Detailed, 3D rendered and handcrafted graphic:
everything you can see in the map is designed, sculpted and painted by me, all to provide you the best, unique experience for your upcoming adventures. You cannot find these models anywhere else. If you are the type who likes the wonderful and breathtaking visual worlds of movies and games, then you can relive them on your gaming nights sitting around a table in your home (or online) with your friends.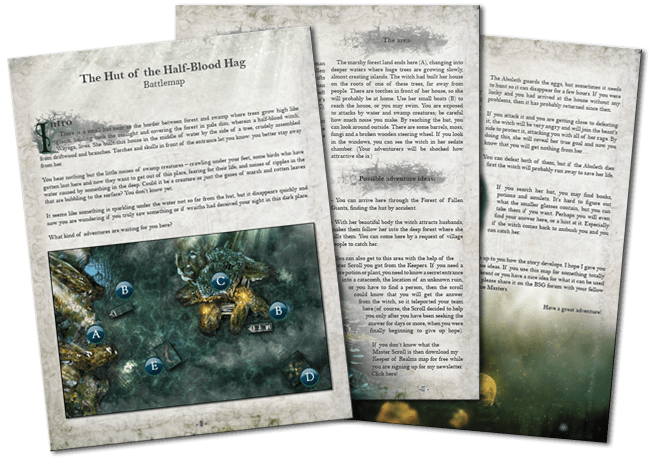 Cut-outs that you can place on your map.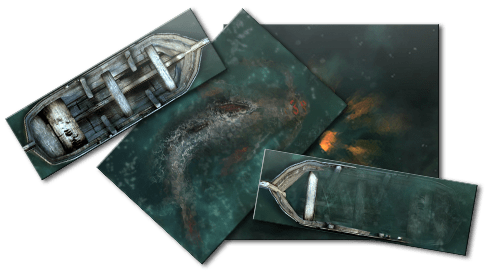 Background and area descriptions to help fire up your imagination and help you create your own adventure.
What you wont get?
This set will not do the hard work for you. As a Game Master you have a lot of work, outlining the world and the adventure, populating areas, making NPCs more believable and taking control over the story and team. This is what this product will not do, because it is not a pre-written adventure you can follow step by step. But Im sure the diverse areas, detailed graphics, area descriptions and those few adventure hooks you could use will provide a lot of help in the harder parts of this wonderful job. Its also possible to bend this map to your own original concept with the alternate Night version and cut-outs.

Features of the digital version:
Image format:
– JPG files for virtual tabletop players: 100dpi (1 inch=100px)
– PDF with the map broken into pages: 300DPI (with day/night versions and grid overlay layers – optional)
– Description: PDF, 200DPI
These PDF files are converted with a CMYK profile that is better for most printers and use about 20% less black ink!

Features of the printed tiles:
You will get the map printed on 10 double sided map-tiles!
– 2 description tiles + cut outs
– 8 tiles with the map
The background story and description is printed on the tiles.

Re-usable and modular.
Buy it once and use them for any adventure! The tiles are available with two sides, you will find the night version printed on the back of card-tiles.

Double-sided UV-coated
You can draw on them with wet-erase felt-tip pens because this surface makes it possible to erase.
Use tape to connect tiles easily on their other side:
(it will not remove the paint thanks to the special surface that makes it even water-proof)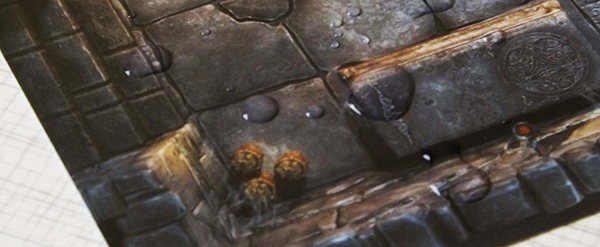 (Pictures are from the Keeper of Realms set.)