3D printable War Wizard statue/miniature that you can print out at home and use them as a cheaper, but still visually pleasing, alternative on your tabletop.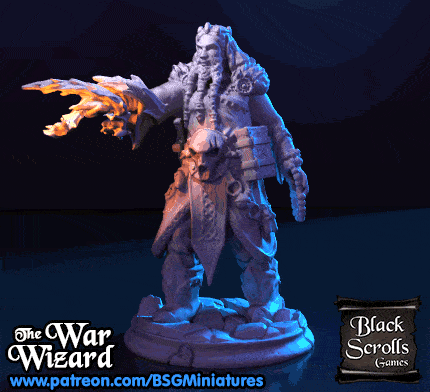 This model was designed and tested by the two artists of Black Scrolls Games.  You can print out these models on your own 3D printer or you can take them to a local library or a shop that offer this kind of service.
The bigger Wizard in the pictures was printed at 100-micron layer height, 20 percent infill and 200C with PLA. These numbers may vary based on your printer and the material you use. I've used a 0.2 mm nozzle to the smaller wizard and he was printed at 50 micron layer height.

Technical information:
You can resize the files with – 45 percent if you want a smaller (28mm) sized mini in your game.
Support is not needed for all the parts, please read over the "before you print.PDF" file for more details.
If you have any questions, please feel free to contact us here, on Facebook or any other platform where you can find us.
We say big thanks for the patrons who have supported this project at our BSGMiniatures Patreon page!

These files are for personal use only, making any changes to the files, selling them or the printed result is possible only with the written permission of the publisher