These aren't those regular doors, each of them has extra abilities.
A – This big portal-like door with the crystals suggests that it will not be easy to open, and you'll find something extraordinary behind it.
B – You perhaps cannot open this big metal door with the cogs in the room where it stands; you have to be clever if you want to go through it.
C – The light from this crystal door enchants all the travelers who gaze at it for too much time. It can be a door of a mage or a secret garden.
D – Ancient carvings and patterns cover the whole surface of this strong stone door; it can be a perfect choice for an older part of the dungeon, a Mayan temple or for a carved cave where long forgotten rituals have been performed.
E – This last, ornamented door hides a mountain of treasures. Or a pack of skeletons and rust monsters with a dragon. You never know for sure.
I hope these doors will have a place on your table and they will make your dungeons and chambers more exciting. Do not let your doors be easily forgettable!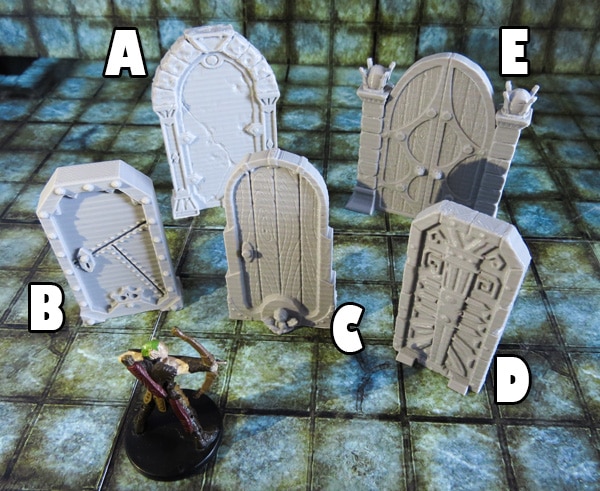 Technical information:
You can resize the files if you want smaller or larger sized doors, the files are scaled for 28mm games. Support is not needed for the models, you can print them with the settings you use on your printer and you can use them right off the printing bed.